Google revealed another modification to their search engine algorithm on May 4, 2020. It took two weeks to affect, and Google announced them on May 18. As is customary, Google does not provide much information about the algorithm modifications, whose industries are most affected, or whether the core update 2020 has anything to do with the present COVID-19 epidemic. Let's have a look at the May 2020 core update.
Several publications on the internet discuss the impact of the core update on various industries, illustrating the drop or growth in numbers. However, there isn't a clear picture of the May 2020 core upgrade. After reviewing Google's most recent publications and January Core Update, I've compiled a list of critical elements that I discovered. This is the prime thing that might interested in if you operate a website. It also done with the prime statement with the analysis and programs.
Algorithm Rolled Out: May 4th, 2020
Later today, we are releasing a broad core algorithm update, as we do several times per year. It is called the May 2020 Core Update. Our guidance about such updates remains as we've covered before. Please see this blog post for more about that:https://t.co/e5ZQUAlt0G

— Google SearchLiaison (@searchliaison) May 4, 2020
Algorithm Overview: Overall Gist
In the Coronavirus Pandemic, Google released the second Core Update of 2020. Now that the distribution is complete, it's time to dig further into the changes Google has implemented.
In this blog post, Marcus Pentzek, Chief SEO Consultant at Searchmetrics, and Niels Dahnke, Head of SEO at content marketing agency Suxeedo, examine the update's impacts and provide their views and analysis of the May Core Update's winners and losers. The 2020 Core Update looks to intimately linked to E-A-T once more.
We take notice of similarities across pages that showed losses or increases with each core upgrade. We take what we know about E-A-T and website quality from Google and apply it to a variety of other aspects, such as whether our customers have made improvements that appear to have been rewarded if rivals are prospering, whether link building has occurred on a wide scale, and so on. Our team consider keyword rankings, seasonality, and a variety of other variables.
Algorithm Winners & Losers
Winners
Legacy.com (an obituary site) improved its ranking (+13 ranks on average) and popularity with this modification. On the other hand, the News industry is by far the largest winner.
In recent months, several media sources have attracted unrivalled user attention with everyone's continual gaze on the news. However, it looks that whatever they're doing is working since they've been rewarded in this update.
Let's take a look at IndianExpress, the biggest winner in the News category:
It was intriguing to see PR sources acquire substantial ranking traction in the business sector – sites like Businesswire, PR Newswire, and GlobeNewswire each gained 50+ spots.
Losers
The offline entertainment business has taken a blow, and tragically, so have the websites associated with it due to this upgrade. Eventbrite, the "it-place" for individuals looking for offline entertainment, has dropped 44 spots. The terms on the may 2020 Google updates are based on the user's point of view.
Algorithm Solution: Ways to Implement with Google Algorithm
Look at the priority of the graphic above to get a sense of how massive the update is. It comes from SEMrush Sensor, which tracks the movement of Google search results.
The chart monitors Google daily, and whether it is green or blue throughout the day, it indicates that there isn't much movement. However, when the colours become red, it indicates that the rankings are volatile.
If you haven't already done so, check your ranks to see if they've risen or fallen. If you don't already track your rankings, you may do so for free on Ubersuggest, where you can track up to 25 keywords with various issues related to Google issues.
You should go and check your Google Analytics account to see how your traffic performs. Hopefully, your website traffic has increased. Don't get too worked up if it hasn't. I have some information that may be of use to you.
After that, we have many teams brainstorming meetings in which we come up with speculations about what Google has altered and then test our hypotheses. Our staff also looked at the discussion threads on numerous forums where the update was debated. We also look at tweets and blog postings from people who have commented on the change.
Real-Time Implementation Example:
Case 1: Recovering From The Core Update of March 2019
The first example is a website that offers a one-of-a-kind health/medical service. During the March 2019 core update, the site severely harmed, with traffic dropping by 40% overnight. The site owners, like many others, baffled as to why their site had taken down.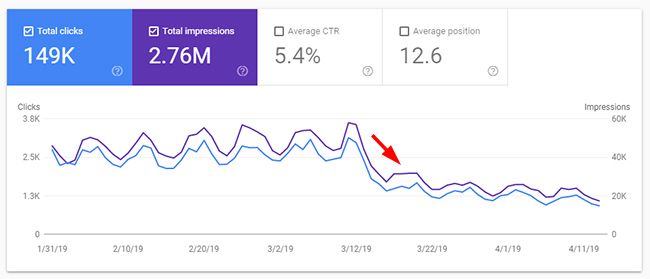 When it came to reviewing links and mentions from well-known sites, the site simply didn't measure up to the competition. In fact, the overall connection profile was generally poorer. Several times during the audit, I mentioned this and indicated that it was not a straightforward or quick correction. The site has inevitably gained more links over the last year, and from some notable places. This may have certainly helped the issue, especially in combination with the other changes.
The Game of Waiting:
The site would only gain or lose marginally if more fundamental upgrades trickled out after the March 2019 update. This wasn't entirely surprising, given that the site underwent a lot of modifications from May to September, and Google would need to observe those changes over time for the site to recover.
Finally, the site exploded on the May 2020 core upgrade. It's increased by 53% since the update went live, which is fantastic. It's not quite back to where it was before to the March 2019 upgrade, but it's getting there.