I don't have all the details yet, but it seems like this was a glitch on our side and has been fixed in the meantime.

If someone could fix the other 2020-issues, that would be great.

— 🦙 johnmu.xml (personal) 🦙 (@JohnMu) August 11, 2020
According to Search Engine Journal, in the afternoon, Google experienced a major Google Indexing Glitch on August 10, 2020. Users of search engines reported large variations in search results the next morning. It assumed, as is frequently the case when Google results change dramatically and unexpectedly, that an algorithm update had come, but this does not appear to have been the case that day.
According to the Search Engine Journal, Google's search results were "abysmal." one SEO, for example, stated that the recipe search results were no longer relevant to the query. Another Twitter user claimed that a Minnesota company was ranking for a Dallas search query. Even after including the site's name in the search query, searching for articles on a specific site yielded no relevant results.
The scope of the malfunction was what made it even more disturbing. According to reports, the problem felt throughout Europe, Asia, and all other English-speaking countries. Whether local services or recipes, it influenced all languages, countries, and specialties. Furthermore, some eCommerce websites have experienced drastic changes in their ranks.
Why Did Google's Search Results Fail?
At first, SEOs assumed that a Google search upgrade caused the problem. With a tweet, Google's John Mueller ended the discussion.
"I don't have all the details yet, but it seems like this was a glitch on our side and has fixed in the meantime," the Google developer advocate wrote.
Google later offered an official explanation via its Webmaster Twitter account later that day.
The actual reason for the problem not mentioned in the official announcement. Google's Gary Illyes, on the other hand, speculated that the problem could tied to Google's Caffeine indexing engines.
Issues with Google's Caffeine Indexing System?
Caffeine is a web crawling and indexing technique developed by Google to help it digest data more quickly.
The technique allows the search engine behemoth to continuously index the whole web in real time. It will then utilize these newer indexes to deliver current search results.
According to Gary, the Caffeine indexing system can perform a variety of functions. It consists of — but is not limited to — the following items:
The ingestions fetch logs.
Fetched data rendered and converted.
Link, meta, and structured data are all extracted.
Some signals extracted and computed.
New crawls scheduled.
Creates the index that will used to serve.
The Webmaster went on to say that any problems with the Caffeine system's functionality would have an impact downstream.
A problem in the schedule, for example, could make crawling take longer. A problem with indexing can also affect how a page is ranked and served by a search engine.
The distinction between indexing errors and algorithm changes
It's natural to ask if there was an algorithm update if your ranks fluctuate. On the other hand, Google verifies all of their Core Algorithm Updates, as they did with the most recent one in May 2020.
So, how do you tell the difference between an update and a bug?
When Google claims they've published a Core Algorithm Update, they're referring to changes to their algorithms, the systems that rank (order) search results based on relevancy to the query. If you lost rankings due to a Core Update, you may or may not need to take action. For further information, see "What webmasters should know about Google's core upgrades."
There's nothing you can do until Google acknowledges that there was an indexing bug. Indexing troubles are the consequence of a Google error that they need to rectify, not reflecting something you did incorrectly.
There are several other reasons why your rankings may be shifting.
Your rankings for a query or a combination of queries may fluctuate for a variety of reasons, including indexing issues and algorithm modifications.
Here are some more possibilities for why your ranks have shifted:
Noindex: If you noindex a page by accident, it will be completely removed from Google's index. This would result in a significant drop in your ranks, from wherever you were previously to 100+ or N/A. (depending on what rank tracker you use).
Blocked: Using your robots.txt file or Google's URL parameters tool to block a website from being crawled accidentally could result in that page being removed from search results.
Changes to Your Site: If you change your site, your rankings may change. Removing an internal link to a page from your navigation, for example, may cause that page to rank lower because it no longer receives as much PageRank. Changes in technology, such as switching from an HTML framework to a JavaScript framework (content loaded by JS), might cause problems. Furthermore, altering some or all of the page's content may cause it to rank differently for specific queries.
Competitors: Ranking changes aren't always the consequence of something you or Google did. If a competitor creates a better relevant page for that query, you may lose your ranking. According to Google, the instability caused by an indexing fault, not an algorithm upgrade. While some initially ascribed the volatility to an algorithm upgrade, others felt the oddity they saw on the SERP was due to a malfunction and Google glitch, which came out to be right.
Real-Time Implementation Example
August 10th – Members of the SEO community originally thought a major Google algorithm update had occurred as many sites experienced losses in rankings, but it was, in fact, a glitch in Google's system. Google took to Twitter to confirm that the search engine was experiencing indexing issues that were quickly addressed: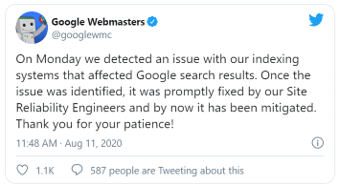 August 15th to 16th – Sensors reported high volatility in the SERPs over these two days. Similar to August 10th, there were temporary shifts in search rankings. Google has not commented on the fluctuations but it's possible that another glitch may have occurred.
August 17th – Many search marketers reported significant changes in the search results and speculated about a possible Google algorithm update during this time. However, Google has not confirmed the occurrence of an update: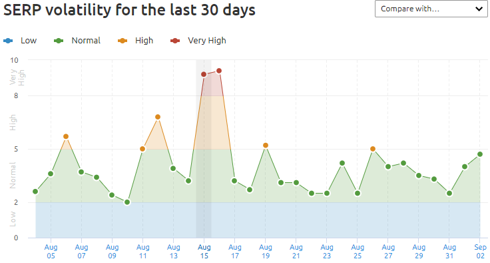 Final Thoghts:
On this same day, Google stated that Search Console Insights, a new experience that will assist content producers and publishers in better understanding how people discover their site's content and what connects with them, had been rolled out to beta testers. The information provided in Search Console Insights, according to Google, will assist us in making informed judgments about how to improve the content of our websites.