The interruption created by the COVID-19 epidemic provided an unparalleled look into how search activity affects rankings. Outside of the core improvements, you haven't seen this much volatility in such a short space since the extended period of ranking variations that occurred between March 15 and April 3.
This is not the usual search activity.
What we assumed was a Google update turned out to be the world's search trends changing. Many people noticed changes in Google search results starting on March 11, and the World Health Organization proclaimed the coronavirus a worldwide epidemic.
Others believe the problem for us now is interpreting what's going on. If you saw any changes, it was most likely due to global search traffic patterns or Google reacting to those changes. And many don't believe they've built a special algorithm for the coronavirus — they're reacting to how the environment alters their searches.
With A Heavy Emphasis On YMYL.
Google has been tinkering with everything related to Your Money or Your Life [YMYL] and health-related issues. Last year, Google acknowledged that for YMYL inquiries, it might assign more weight to expertise, authoritativeness, and trustworthiness (EAT) signals in its ranking algorithms. The health crisis would be a highly relevant scenario for Google to increase its reliance on such signals.
Insights
This unusual confluence of factors (a global health crisis and Google's earlier effort to promote EAT) gives us a unique look at what might happen when search activity deviates drastically from the norm, allowing us to acquire a deeper understanding of why our ranks have increased or declined.
As search activity progressively returns to normal, companies and publishers should track how they affected during this period, but be aware that this data may not be relevant for year-over-year comparisons. You may keep track of these events by annotating the variations in Google Analytics and Search Console.
March's Step-By-Step Emphasis
March 20, 2020:
Although the SOS notice was gone, a tabbed COVID-19 Alert section (highlighted in red) began to emerge on the right sidebar. The tabs included symptoms, prevention, therapies, and an overview section with a "Help and information" box.
Four of the nine organic results virus-related content (no mention of the beer brand). An expanding "Common inquiries" box about the infection appeared between the third and fourth listings.
The beer brand's websites ranked first and fourth, respectively; however, the search results no longer included its Twitter account and Wikipedia page and sites relating to the California city on the first page. The "Searches connected to" section has likewise vanished.
Below the COVID-19 Alert section, a "See results about" box began to emerge. Users who clicked on the box sent to the search results for "Corona (beer)."
March 23, 2020:
The COVID-19 Alert section has relocated to the left side of the website, and a statistics tab has added to it; instead of presenting information in the COVID-19 Alert area, selecting a tab filter the main search results column.
The statistics and alert section are both parts of Google's new COVID-19 search experience, revealed on Saturday. Google began displaying a statistics module on the right side of the results page. Users who clicked on "More statistics" sent to Google's coronavirus map, which displays the number of confirmed, recovered, and fatal cases, as well as cases per million persons, sorted by geographic location, similar to Bing's COVID-19 tracker.
The World Health Organization and the New York Times had the top two organic results. The next entry was Worldometer's COVID-19 tracker, which displays viral data. The remainder of the organic results displayed at the bottom of the page, behind the top stories carousel, "Help and information" box, the top three organic results, a "Prevention" box, a "Local and health authorities on Twitter" carousel, and the frequently asked questions section.
More Data
The remaining organic entries were the beer brand's two websites, Merriam-"corona" Webster's definition page, the "corona" Wiktionary page, gardening equipment manufacturer Corona Tools, and a Washington Post piece about the virus.
The shift in trips to places like grocery shops and parks shown in each Community Mobility Report, which broken down by location. Find out more about the information.
In the following weeks, we'll be adding more countries, regions, and languages. This is a beta version, and reports will updated on a regular basis.
COVID-19 notifications should provide structured data (BETA)
Many entities, including governments, health organisations, schools, and others, are issuing COVID-19-related urgent announcements that affect scheduling and other elements of daily life. This includes facility closures, event rescheduling, and new medical facility availability (for example, testing centers). Some instances of special announcements are as follows:
The announcement of a "shelter-in-place" order
Notice of Closure (for example, closing a school or public transportation)
Benefits from the government announced (for example, unemployment support, paid leave, or one-time payments)
Guidelines for quarantine
Restrictions on travel
Notification of the opening of a new drive-through testing facility
An event's transfer from offline to online, or its cancellation, will announced.
Revisions to the hours of operation and shopping limitations will announced.
Statistics and maps of disease spread
Suggested Covid-19 modifications for your Google My Business local listings from March 12, 2020 to April 7, 2020
The ability to label your business as "Temporarily Closed" has temporarily reinstated by Google.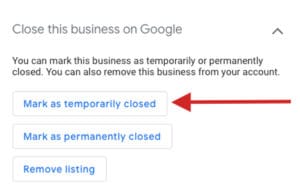 Make changes to your qualities.
Choose features that your company offers and features that it does not already offer. "Dine-in, Order-ahead, Delivery, Catering, Takeout, Curbside pickup, and coming soon In-store pickup," for example, are restaurant attribute changes.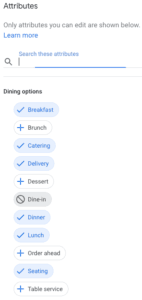 Make a post for Covid-19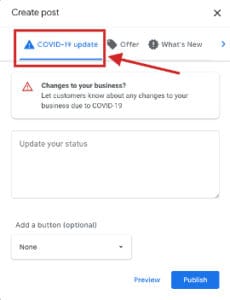 Google removed the listing notice
Within the Google My Business dashboard, the notice "Limited Google My Business Functionality" was deleted from each listing. We've found that Google Support ticket response times have gotten faster and more frequent after the alert was removed.