Algorithm Rolled Out: December 3, 2020
Core Algorithm Overview: Overall Gist
When Google makes important improvements to its search algorithms and infrastructure, they release core updates multiple times a year. This guarantees that the material delivered in response to their users' search queries is relevant and authoritative. After seven months, Google has published a new core update, the December 2020 core update. Unlike other algorithm updates, Google says it always confirms when it rolls out significant core adjustments. These changes frequently have widespread implications, such as a dip or surge in website traffic.
Later today, we are releasing a broad core algorithm update, as we do several times per year. It is called the December 2020 Core Update. Our guidance about such updates remains as we've covered before. Please see this blog post for more about that:https://t.co/e5ZQUAlt0G

— Google SearchLiaison (@searchliaison) December 3, 2020
First Insights:
The deployment isn't finished yet; the full impact will be felt in the following one to two weeks.
We can notice some precise adjustments in ranks in usual E-A-T and content sectors like music, health, news, and ecommerce, but there is no apparent trend yet, unlike the earlier revisions.
Several music-related websites have experienced significant dips and spikes in traffic.
Several medical and health-related websites have suffered significant decreases in traffic.
To date, the deployment has mostly taken place in the United States. So far, countries outside of the United States have been less affected – we're watching significant websites but can't confirm the same level of effect as the United States.
Algorithm Winners & Losers
Winners
Zoominfo.com
Whitepages.com
Linkedin.com
Ebay.com
Vimeo.com
Loginbrain.com
Yahoo.com
Foursquare.com
Businesswire.com
Soundcloud.com
Losers
Yellowpages.com
Newsbreak.com
Gettyimages.com
Wish.com
Echovita.com
Urbandictionary.com
Local.com
Dnb.com
Aliexpress.com
Findanyanswer.com
Algorithm Solution: Ways to Implement or Take to Cope With Google Algorithm Guidelines
In the past, Google has issued advice on what to do if you've been hurt by a core upgrade. There is some recovery period between core updates, according to Google, but the significant shift occurs after another core update. There are no set protocols for getting back on track, and a drop in rankings does not always implement that something is wrong with your website. Google has given a list of questions to consider if your site is affected by a fundamental update.
There are winners and losers when a large-scale core upgrade is implemented. Here are some helpful hints for websites that have experienced a drop in traffic.
Update Your Old Web Pages
Google's algorithm for assessing content has been updated, which is the major focus of the modifications. If you see a substantial reduction in traffic, particularly on web pages that haven't updated in one or two years, it's time to examine and refresh your content. For example, suppose you operate a law firm website with pages regarding a certain law amendment that hasn't updated with the most recent information on the issue. Your traffic will almost certainly plummet when a major core upgrade is released.
By the way if you are interested in SEO Strategy for Law firm you can check here.
Keep on Producing New Content Regularly
This is where frequent press release distribution and blogging come in handy. Google enjoys new material. Maintaining a blog about relevant issues to your business or sector gets your website searchable by search engines. Another strategy to get your material out there is to publish regular press releases on high-authority news websites. This also allows you to reach out to audiences that your website cannot reach.
Keep on Improving Your Content
Aside from creating long-form articles and extensive analyses on a certain issue, there are numerous more methods to increase the content on your website. Video, infographics, and even excerpts of your social media postings may help to personalize and contextualize your material. Live videos and even TikTok uploads on some of your blog entries show search engine bots that your website not mass-produced and overseen actual people.
Evaluate Your Link Profile
This is certainly repetitive advice, but it never gets old because links are still in Google Page Rank. Examine the web pages you connect to and those that link back to you if a core upgrade negatively influences your website. Remove anything that comes from sketchy portals or spamming portals. All of these practical suggestions can assist you in regaining traffic the next time Google releases a broad core upgrade.
You may approach search intent similarly to how you could include Google's E-A-T guidelines into your content. Examine your statistics to see which topics create the most organic traffic and keywords. Investigate which content keeps visitors on your site the longest and leads to the most conversions. Once you've gathered this data, start applying it to your future material and adjusting your methods accordingly.
Real-Time Implementation Example
It usually takes a few days after a major core update to see a lot of activity across all sites. However, with the December release, we observed a lot more movement (within 24 hours). A lot of people (including myself) were providing hourly Google Analytics trending of sites that were starting to feel the effects of the update. Consider the following scenario:


Many of the impacted sites experienced a lot of movement (either surging or decreasing) shortly after the upgrade on December 4th and 5th. Then things went quiet for a while. After the first wave of turbulence, it was almost too peaceful. Then 12/9 rolled around. In the next section, I'll go through the topic of volatility.
Here are two examples of spikes and decreases following the upgrade. Some of them were quite dramatic, and I'll go into more detail about them in part two of the series case studies. By the way, both of the instances below are quite intriguing cases.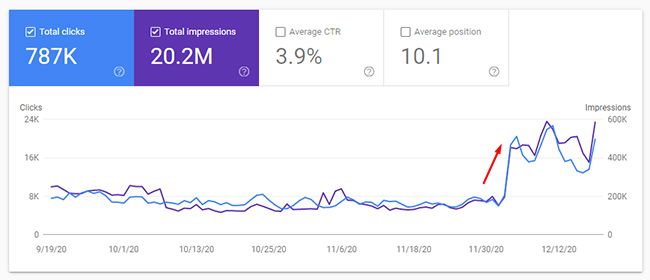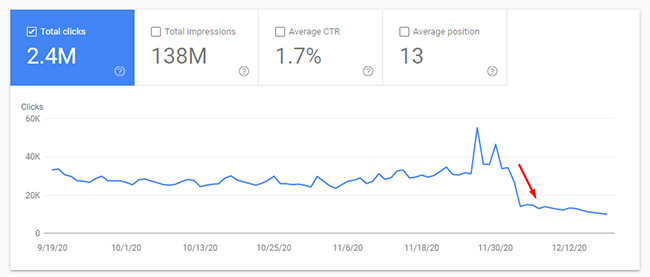 Final End Result
The December 2020 Core Update serves as a wake-up call to marketers and website owners to raise the bar on content quality and relevancy. It's past time for those who were hard struck to rethink their content marketing approach and how they'll integrate SEO into their entire digital marketing strategy in the future. With Google's algorithm for determining content quality always evolving, it's only natural that we should continue to improve the quality of the information we produce. Blogging, press release distribution, infographics, live videos, long-form articles, and podcasts, for example, can assist search engines in determining which information is real and which is not.