Algorithm Rolled Out: January 22, 2020
Algorithm Overview: Overall Gist
Deduplication does not happen for video featured snippets. It does for a featured snippet-variant that may resemble a Knowledge Panel on desktop, to the right side of results. This will likely stop later this week and resume when those move inline with main results….

— Google SearchLiaison (@searchliaison) January 23, 2020
Google pushed out a substantial upgrade to the first page of search results on Wednesday, January 22, 2020, which has generated quite a stir in the SEO field since then. Web sites that appear in a Featured Snippet have lost their place in the typical organic rankings on page one due to Google's Featured Snippet upgrade. Instead, these websites relegated to page two, prompting the question: Should we optimize for Featured Snippets or position one?
Since November 2019, Google has been testing this upgrade, taking many SEOs off the surprise. After causing quite a commotion, many SEOs have prematurely proclaimed Featured Snippets obsolete, even though there is no evidence to suggest that we should abandon our quest for "position zero." Before assessing how these improvements will affect our SEO efforts, we must first comprehend what they represent.
History
When Google originally launched the highlighted snippet in 2014, it completely altered the game for search engine optimization. Without requiring the desired #1 ranking, having a position above the highest-ranked organic results showed you winning the SEO war. This is especially true if the highlighted snippet comes from a site on the first page of Google search results – you may obtain a higher position. You weren't just assuring traffic from your Google position; you also ensured that your content would the first thing people observed when searching for that specific term. That's what I call a double whammy.
To the dismay of marketers and companies alike, those days are no more. If a URL picked as the highlighted snippet, it gets deleted off the first page of Google results, according to Google's newest deduplication update.
Things You Need To Know
You have a basic concept of what the upgrade supposed to do, but that isn't all. Here are a few more things to think about while you read:
Deduplication is the term used to describe the removal of duplicate URLs from featured snippets.
Deduplication implemented all around the world.
Even highlighted snippet variations that resemble a knowledge panel affected by deduplication.
Top stories unaffected by deduplication.
Interesting Finds unaffected by deduplication.
The performance reports in Google Search Console (GSC) will not change.
Because pictures do not have a search listing, deduplication has no effect on the URL for photos shown in a snippet.
The Reason for the Change
Google's objective is to give the most accurate results for its consumers' searches. Pruning the hits on the SERPs so that users don't have to comb through duplicates is a part of this procedure.
The highlighted snippet deduplication update pushes the featured snippet's URL to the second page of Google results, where it normally ranks eleventh overall (rank #1 of page two). However, remember that this isn't always the case, although it appears to be the case for many websites. This example helps to minimize duplicate results while improving individual search results accuracy.
Algorithm Winners & Losers
If you do a quick search on this issue, you'll discover a slew of blog posts expressing dissatisfaction with the change. The wringing of hands is due to the feared impact on internet marketing in general and the SEO sector in particular. Several well-known members of the SEO community have already witnessed a 30% drop in traffic to their clients' websites. Consider how you use the search regularly. Did you really click on the link if you came across a sample, or did you just scan the eight bullet points or summary without clicking through?
Since Google introduced the function, internet marketing firms have prioritised reaching the coveted snippet area. Many were successful, and with the use of a complete SEO approach, they were able to move their clients' pages to the first page of search results and snare the featured snippet slot. Many sites have witnessed a drop in traffic now that Google allows one unique URL on the first page results (including the highlighted snippet). They continue to profit from being on the top page. But visitors are less likely to click on their link now that there are few of them.
Since the upgrade, there has been a reaction in the SEO community, with many SEOs arguing that earning a Featured Snippet is no longer beneficial. The reason is that there is no assurance that viewers would not enticed to click on position two or even position 3.
SEO Impact
In 2017, Ahrefs conducted a study of 2 million Featured Snippets and concluded that snippets do not receive more clicks than the page that ranks first for the search query. According to the study, when there are no Featured Snippets, 26 per cent of clicks go to the first URL. When a Featured Snippet appears, 8.6% of clicks go to it, whereas 19.6% go to the "normal" search result just below it. As a result, there has been debate on whether it is better to do rid of a Featured Snippet and rank in position 2 with the new upgrade.
Winner Industries
Automotive industry – Between the 22nd and 23rd of January, searches with informative aim witnessed a 10% rise in traffic. Between the same period, searches with a transactional purpose experienced a 15% drop in traffic.
Finance industry – Between the 22nd and 23rd of January, traffic to informational searches increased by 4%.
Boundaries of The Change
Video Featured Snippets will not deduplicated.
The upgrade does not affect other features like Top Stories or Interesting Finds.
Initially, the deduplication only affected a subset of highlighted snippets on the right side of search results pages. Google has stated that the deduplication for this variation will reversed until later when these sorts of highlighted snippet-variants will be relocated inline to sit with the main results.
This change will have no impact on Google Search Console performance statistics. They were already just tracking the URL's highest appearance as its position, and highlighted snippets were already being recorded as a position one ranking.
Algorithm Solution: Ways to implement or take to cope with Google algorithm guidelines
We're still in the 'wait-and-see' stage right now, so de-optimizing is probably not a good idea until more data has been evaluated. In this situation, the greatest advice is to study your results before deciding. If your website ranked number one and your content highlighted in a featured snippet, you likely lost traffic because snippets accounted for 8.6% of all clicks, while the organic search result ranking at one accounted for 19.6%. Your website would eliminated off the first page of Google results in this situation, possibly costing you approximately 20% of clicks. However, seeking the highlighted snippet place is still a realistic option when a website ranks low on the first page of results.
The full impact of this modification has yet to determined. For the time being, the consequences appear to be minor for most consumers. Patience is essential, as difficult as it may seem at first. Meanwhile, it's advisable to stick to certain tried-and-true SEO tactics to keep your effectiveness up.
SEO Impact
Internet marketing is a marathon rather than a sprint, especially when SEO is involved. It's because it works if you've heard it before. The best method to counteract changes like those made by Google is to create a multi-channel. Integrated marketing strategy that focuses on quality content and meets the demands of your customers. Sit tight, use smart SEO methods, and create a solid marketing campaign for your product and brand. And you'll weather any other digital storm that may be building at Google.
Here Are Some Options You Can Try As Best Practises:
To target a featured snippet, create better-than-the-best content. Follow best practices, such as echoing the user's inquiry and providing a clear, concise answer, and so on.
Produce the same high-quality material while avoiding highlighted snippets.
Other SERP features that haven't been deduplicated yet, including video, pictures, and news/top articles, should be targeted.
Real-Time Implementation Example
On January 22nd, Google said that it will reduce the duplication of featured snippet URLs on search engine results pages (SERPs). Featured snippets used to appear at the top of the SERPs in a box at position zero. However that URL might now appear elsewhere on the page. You practically got two rankings! Featured snippets are no longer in position zero because that result is no longer duplicated; instead, they will be in position 1.
Deduplication is the process of removing duplicate URLs from the SERPs with highlighted snippets.
This is how the SERPs looked before the change: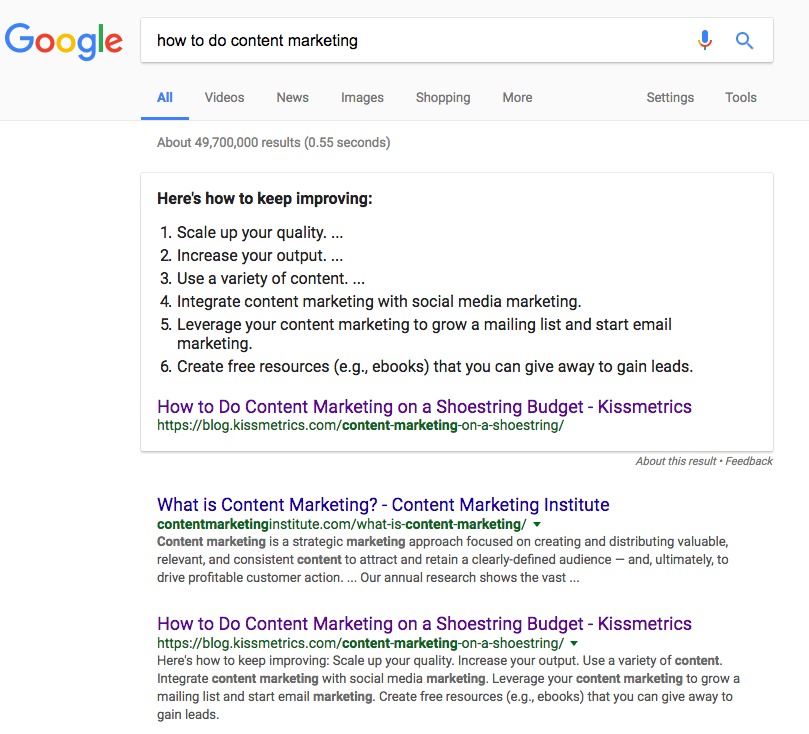 The Kissmetrics URL is not only a featured snippet (FS). But also in position 2 of the organic search results, as you can see.
Currently, the featured snippet will positioned first: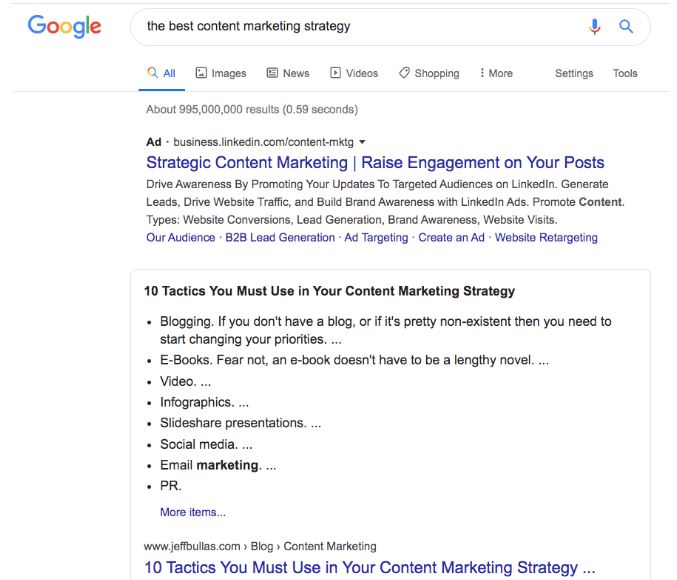 URLs shown in featured snippets that appear in the right rail of Google desktop results. It will continue to be included in the main organic listings, for the time being, anyway.
Your GSC performance reports will not affected, because the FS box already counted in the reports.
Depending on your marketing goals, keeping your website and users as featured snippets may be the best option. However, if your goal is to attract visitors to visit your website. They may be hesitant to do so after receiving the appropriate amount of information from the FS. You can use Google's NoSnippet tag to prevent your page from appearing in the FS box. But if you were previously in position zero, you risk not ranking well in the SERPs.
Because the FS box already counted in the reports, your GSC performance reports will not altered.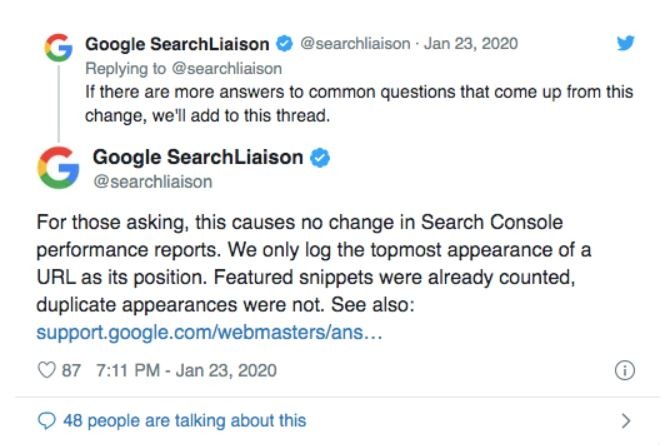 After winning the award, organic traffic increased almost immediately. With sessions and new users more than doubling for Motability terms in particular. The number of sessions has increased dramatically, while the conversion rate has remained stable. In cases where we have yet to win snippets for landing pages. We have seen a constant month-over-month growth in rankings.
Final End Result
This upgrade looks to be still in the works, with a lot of testing and minor tweaks done, with Google SearchLiaisons and Danny Sullivan providing regular updates. As this adjustment unfolds over the following several weeks, keep a close eye on your highlighted snippets, ranking positions, and Click-Through Rates to see how deduplication affects your site, as the impact will differentiate from one site to the next. What should marketers do in this situation? To make data-driven judgments on the metrics that matter, stay cool, focus on the goal(s), assess the possibilities, and measure traffic.